April is living up to its reputation for showers, except that here in Wisconsin, it happens to be snow showers. Dr. Seuss summed up our spring pretty well. "The sun did not shine, it was too wet to play. So we sat in the house all that cold, cold, wet day." We entertain ourselves these days often by looking at a screen of some sort, but don't you ever get tired of it? And haven't you wondered about ways people entertained themselves without technology? They had a rich variety of pastimes, which included solitaire games.
When people think of solitaire, they're usually thinking of a game actually called Klondike. Really, there are a vast number of card games that are considered solitaire, that is, games played alone.  I married into a family that Doesn't Enjoy Games (gasp!), except for a rousing game of Crazy Eights about once a year. So I get my jollies learning different old-fashioned solitaire card games. I even keep a miniature deck of cards in my travel bag, just in case.
Blue Moon is one of the first solitaire games I learned and still one of my favorites. It was taught to me by my mother, who learned it from her father. Why the name Blue Moon?  Because that's how often you win it….once in a blue moon. Not that I know that for a fact, I have to confess. I've come very close but I've never won. But I live with the hope…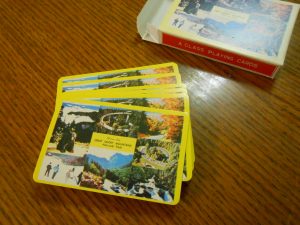 The rules are very simple. You lay the first card face up, then to the right of that first card, keep laying down the cards face up, one by one. If, when you lay down a card, it matches the previous card by either number or suit, you move it (and all the cards underneath) to the top of the matching card. You can also move the card(s) if it matches the card two cards before.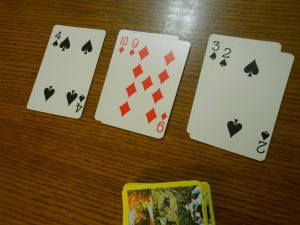 Here are my first few cards. I was able to match up some of the cards. Since you can only move cards next to each other or two cards apart, I couldn't move the 2 of spades pile to the 4 of spades.
Here I could have moved the 9 of clubs to the 10 of clubs OR the 9 of diamonds; it didn't really matter at this point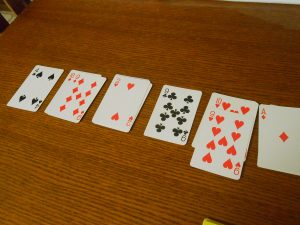 You will have to start strategizing at some point…here I could move the 9 of hearts pile to the 9 of clubs first, which would then allow me to move the Ace of diamonds to the 9 of diamonds.
Slide your cards to the left as you match so there are no gaps.  Keep checking to see if you're able to condense your cards even more.
Continue laying down cards and (hopefully) piling them on previous cards until you run out of cards or you're stuck. In the miraculous event that all your cards are in one pile, congratulations! You won! (HOW did you do it?)