I can't say I've ever heard a woman say she chose housewifery as a career for the usual reasons one goes into a particular field– having the skills required for the job, the earning potential, the incredible opportunities for advancement, or even the prestige and glamour of it all.
In these oh, so enlightened times, when we're all told to listen to our hearts, be ourselves, and do whatever it is that fulfils us, choosing to be a housewife is most certainly not one of the options that will catapult you to Nobel prize status or into the first paragraph of the family Christmas letter.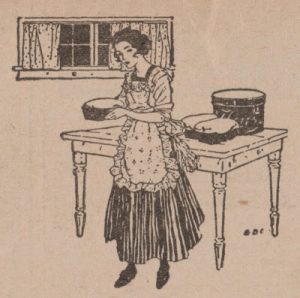 But I recently discovered that this isn't a new perspective when I came across a letter written to a magazine devoted to farm wives.
In 1933, the wife of a beet farmer living in Idaho (who signed her letter Unknown) wrote that she felt her husband didn't see the value of her work as a housewife. Her letter didn't complain about his attitude but instead, she agreed with him when she compared her work to his. She wrote that "measured by the things he does, my work is really 'nothing.' On him depends the food for the family, yes, I might as well say for the world. " So what was her work, the work she considered "nothing"?
2 preschool-aged sons
100 baby chicks to raise
bread to bake
ironing to finish
dishes to wash
other things "too numerous to mention"
She raised the chickens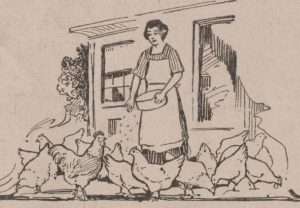 as a little side business but noted that it brought in only a fraction of the household income. Her conclusion was to find comfort in "a ray of hope" that if nothing else, women are "the mothers of men, who in turn will raise big crops that will sell for big checks."
It's a sad perspective that for Mrs. Unknown, it all came back to the dollar sign. But in many ways, I don't feel like it's much different today. Young mothers trying to raise little humans into productive adults, not to mention working to provide a clean house, healthy meals, and all the rest hang their heads because their work doesn't come with the status of a paycheck.
It's curious, isn't it, that society values work more when there is income attached to it? We can mop a floor, toss french fries in a fryer, or organize a craft project for a group of children in our own homes yet we're still "just housewives." But we've been led to believe that when we do nearly the same work away from home for a paycheck, it matters more.
Many people believe that the women's movements of the 1900s elevated the status of women in society. It may have opened doors for women working in public careers, but in doing so, it further discredited and devalued housewives and the work they do in the home.
If you measure quality of life by money alone, yes, a housewife's worth is minimal. But, if money is the measure of quality, well, Heaven help us all!
Maybe we haven't come a long way after all, baby.
(In case you think this has been a downer of a post, stay tuned for part 2 on Monday. It gets better!)