Today I'm sharing a recipe for gluten free pumpkin muffins.
In the spirit of "waste not, want not," here is a recipe that originally came from a World War I-era cookbook, but I've modified it somewhat to be gluten free with minimal sweetening.
Gluten-free baking is a tricky endeavor. I know. Having been diagnosed with more food allergies than I can count on my fingers and toes (plus a friend's full set of toes) I've found it especially hard to get a combination of flours that mimics the taste and texture of wheat flour. And a blend that works for one recipe doesn't always work in another recipe, so coming up a with a repertoire of recipes can be slow going, with lots of failures between.
But…I recently discovered a homemade gluten-free flour blend that's worked well in a few recipes, especially this one. If you've ever bought gluten-free baked goods you know it can be a gamble. When they're good, they're usually ridiculously expensive. The rest of the time, they're gritty with the density of cardboard.
Part of being a housewife is being a good manager of supplies, in this case, food. And in your post-Thanksgiving kitchen, it's possible you might have some extra squash (or pumpkin or even sweet potato). In my case, I had lots of extra squash last year, as you can see in the picture above. Even if you didn't grow any or don't have any leftovers on hand, it's "in season" which means it's plentiful and relatively cheap right now.
To preemptively avoid squash fatigue this winter, creativity is a must. Hence, weekly batches of these gluten free pumpkin muffins and no one's complaining yet.
They're very lightly sweetened, which I think is perfect but you can always add more sweetener. They go well with soup, which is also making frequent menu appearances these days.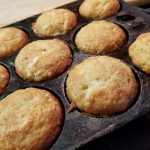 Print Recipe
Gluten Free Squash Muffins
Ingredients
1

egg

1/2

c.

pureed squash (or pumpkin)

1/4

c.

milk (any kind)

3

T

maple syrup

1

c.

gluten free flour blend (recipe below)

1/2

t.

baking soda

1/2

t.

baking powder

3/4

t.

cinnamon

1/4

t.

ginger

1/4

c.

raisins

brown sugar/sucanat
Instructions
Combine egg, squash, milk, and maple syrup, then add in the dry ingredients and stir until combined. Add in optional raisins. Spoon into greased muffin cups and sprinkle brown sugar on top of each muffin. Bake at 350 degrees for 15 minutes.
Gluten-free flour blend
4 parts sorghum1 part tapioca starch1 part arrowroot powder. For this recipe, I mix together 1 c. sorghum flour, 1/4 c. tapioca starch, and 1/4 c. arrowroot powder, then store the remaining flour blend in a small jar.