We can always use some laundry tips, couldn't we? Have you done your laundry this week? As I was doing mine, I thought that I'd collect some of the most valuable tips I have learned and share them with you. Sadly, most people don't see laundry as a skill. In treating it as a simple chore, many housewives have missed the finer points, of which here are but a few.
1. Don't keep reminding family members to clean out their pockets. Do it yourself! It provides the housewife with a Source of Income, including the highly valuable Garage Sale Quarters. Keep an inconspicuous jar or piggy bank in the laundry room to collect your earnings. I scored with $.97 in one pant's pocket alone this week.
2. Oh, what a tangled web we weave when we send a couple of loose pairs of pantyhose through the wash cycle. Add a bra or two and you have the makings for a family puzzle night.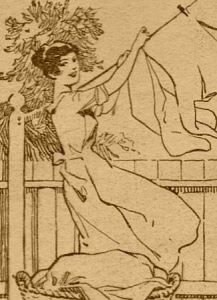 3. Next,speaking of undergarments, be strategic about hanging them on the line. Yes, you may have gotten fabulous clearance deals on underwear following the most recent holiday. But remember, your neighbor won't be able to look at you in the eye when you see him around town. He'll be wondering if you're wearing the St. Patrick's Day underwear with "Lucky" splashed across the backside or perhaps those Christmas wonders with candy canes that say "fa la la la la" all over. Or maybe the cheapie panties you love that sag in the backside or have lost any sense of elasticity. We all give our neighbors reasons to question our sanity, but let's not encourage the rumor mill to run any faster.
4. And finally, for yet another thought on this same topic… When tossing underwear into the washer, make sure one leg is not caught over the center agitator. Those panties will never fit you the same again. Unless of course, you have a disorder in which one thigh is 8 times the size of the other, in which case finding underwear is just one of your many problems. Note: This sage advice is not simply a theory.
Now, housewives, armed with these laundry tips–this newly-discovered wealth of knowledge–let's get to that laundry with renewed vigor!!