These letters describe how two young women in 1925 (98 years ago!) decided to spend their money, in both cases, $1. (For reference, $1 in 1925 is equivalent to over $17 in 2023.) 
A Gift for Another Mother
I am going to tell you about a dollar I spent.
It is very seldom I go to the city to trade, so when I do I always have a list of things I must have and a list I would like to have if I have enough money left. The last time I was in trading I had bought all my necessary things and was wondering what I would like best to get for Mother as it was near her birthday.
A little girl and boy came into the department store and were looking around when I heard the little girl ask the clerk the price of a book. It was $1.98 and the children had only a dollar. So I asked them why they wished that book in particular and the boy said that they had seen their mother look at it the day before when she was in there and it was her birthday that day so they thought it would be nice to give it to her.
I gave them my dollar to pay for the book. I hope their mother is pleased, as my mother had to do with a box of handkerchiefs. Let's hope she was pleased enough to make up for the way I felt not being able to give my mother more! I've often wondered since, was it foolish of me or not?
~Irene Tibbets
A Shopping Spree
Not very long ago, my aunt gave me a dollar to spend anyway I wished. I went to the city to spend the afternoon and I also spent my dollar. I paid a quarter to see a movie and a quarter for a new magazine. Because my best girl friend had one and because I wanted one like her, I bought a harmonica for fifty-five cents. Then I bought a nickel's worth of candy to eat on my way home. I didn't have a very good time either, for the movie wasn't as good as I expected it to be and my best hat got wet!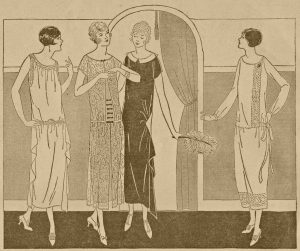 When school time came, Mother asked me how many dresses I had that were good enough to wear. She said, "Well, you ought to have at least one more gingham dress but I cannot spare the money now."
It was then that I began to wish I had saved my dollar for here is what I could have bought with it.
Three yards 33-inch gingham—75 cents
One spool of thread—5 cents
Three skeins embroidery floss—10 cents
One Farmer's Wife pattern—10 cents
Total—One dollar
This is how I spent my dollar and how I could have spent it had I been wiser at the time.
-Leila
Note: Lelia was living with her widowed mother when she wrote this story. A year later she married Ray R. Figg and together they raised a family in their home state of Indiana. Hopefully, she shared this lesson with her children, all girls–Evelyn, Rosemary, Wilma and Shirley. Lelia died a widow in 1994, at the age of 88. 
Do you enjoy these glimpses of history? Then sign up to receive occasional emails from us with information on our upcoming book featuring a collection of stories like these. Sign up here.