The modern definition of a vamp is a woman who is "striking, exotic, or overtly glamorous" and who is "usually a heartless, man-eating seductress." Oh, my! Such an interesting phrase to describe the ideal farmer's wife! Enjoy this advice, written in 1924.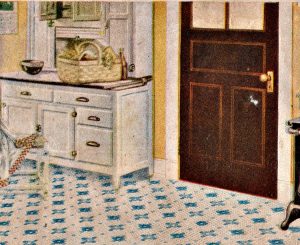 Have you a little vamp in your home? Now don't look so shocked because, I'm going to say something worse than that. You should have one. You should be one!
When you have done the weekly wash and scrubbed the cellar and the porches, besides your daily dozen (which includes the dishes, cooking, sweeping, chickens, beds and–Oh! Why mention them? You know what all I mean, and sometimes it seems more like a daily thousand than a daily dozen) and you have had baking, and perhaps churning too, thrown in for the day and you are tired but you still have a half hour before you need to start supper. Don't change the papers on the pantry shelves. I know they need it but you are so much nicer than any pantry shelf you ever saw. Let them go and give that attention to yourself instead.

Wash face, shoulders, arms and feet (of course, a complete bath would be better if you have time.) Cold cream your face and then lie down and relax for three minutes or five or more. Depends on how much time you have. I mean relax completely. Not a tense muscle in your whole body. Not a solitary wrinkle in your face. Chase that pucker out of your forehead and relax.
This period over, put on your white shoes and stockings, wipe the surplus cream off your face and put on some powder, fix your hair prettily and top all with a clean dress. Nothing fussy. A blue percale bungalow apron will be just fine.
Now look in the glass. Did the pantry shelves with clean paper ever look prettier than you do? No. They did not. Now we'll get supper.
My! How John watches you. Really good to look at. Had almost forgotten how pretty you were. Supper tastes so much better too and although you were so tired an hour ago you feel rested now. And it has a soothing effect on John's tired body to see someone pretty and cheerful opposite him instead of a tired, bedraggled old farm woman.
The woman in the home is the real home-maker and the morale of that home is raised or lowered just so many points by her daily appearance and her outlook on life and its problems.
Finally John says, "Why are you all dolled up tonight?" And when you tell him, "Oh! Just for you," don't be surprised if he doesn't take you in his arms and pet you a little because he probably won't. He might, of course, but more likely he'll reach for his pipe and say, "Golly! I hope that rain holds off till I get the West Forty done. I stepped right along today." Don't feel slighted because he takes more interest in the Forty and what he is doing than he does in you. He noticed you, didn't he? And, way down inside he feels flattered because you did it for him. He's just a child grown up and he is as susceptible to flattery as any child. Tell him, "Yes, I noticed that you were working pretty steady." Doesn't make any difference whether you really noticed it or not. You know he was. Take an interest in his accomplishments. More flattery. And a vamp never overlooks the possibilities of flattery. Never carry it so far as to sound insincere. Just be interested.
If he jollies you or teases, don't fail to jolly back. Flirt with him. Vamp him. And men like water, traffic and other things too numerous to mention, follow the line of least resistance. Make it easier for him to be with his cheerful pal, his chum, his wife, than to be away from her.
Through your comradeship and the resulting wholesome atmosphere of your home, your family will gain a prestige in the community that nothing else, not even wealth, can give. The result will be well worth your effort. Start now.