This year marks 100 years ago that the Farmer's Wife magazine asked its readers the question, "Do you want your daughter to marry a farmer?" and received responses from women all over the United States. Laurie compiled many of these glimpses into farm wives' lives and paired them with traditional quilt blocks in her book A Farmer's Wife Sampler Quilt. To celebrate the anniversary, throughout 2022, we'll occasionally publish some of the letters that weren't included in Laurie's book here on the blog and in our newsletter.
This letter was written by a Mrs. S.O. of Mille Lacs County, Minnesota, sometime between January and March of 1922. For more information on her, please read the note that follows this letter.
Wee daughter is having her nap and it's a good opportunity to tell you why I wish the best of all good things for our pride and hope and joy.

It is because I have known the happiness which comes of service, that I want my daughter to know it, too. Is there any greater joy, I wonder, than that of a hard task well done? When I have hurried with my work that I might do something extra outside, worked until I felt old and cross and tired, and the best man in all the world has said, "I certainly couldn't farm without you!" oh, how I've thrilled. It becomes a little song in my heart and lightens my work for days. And even if he weren't the best man, I think I could be quite happy with the thought: "I've earned my way today; I'm helping with the most essential job on earth; I'm working for a better future."

Then there's the beauty of family life on the farm. Instead of seeing my son rushing off with "the fellows," my daughter going off for a good time that I'll know nothing about, and the younger children coaxing to go to the movies, we'll be spending our evening together with our music, books or mutual friends, or going to some amusement together. We don't have "sets" on the farm, just "a set" that includes father, mother and the children. Perhaps the young folks plan the coasting parties, the strawrides and picnics but there's always a sprinkling of older folks with young hearts and they aren't in the way, either.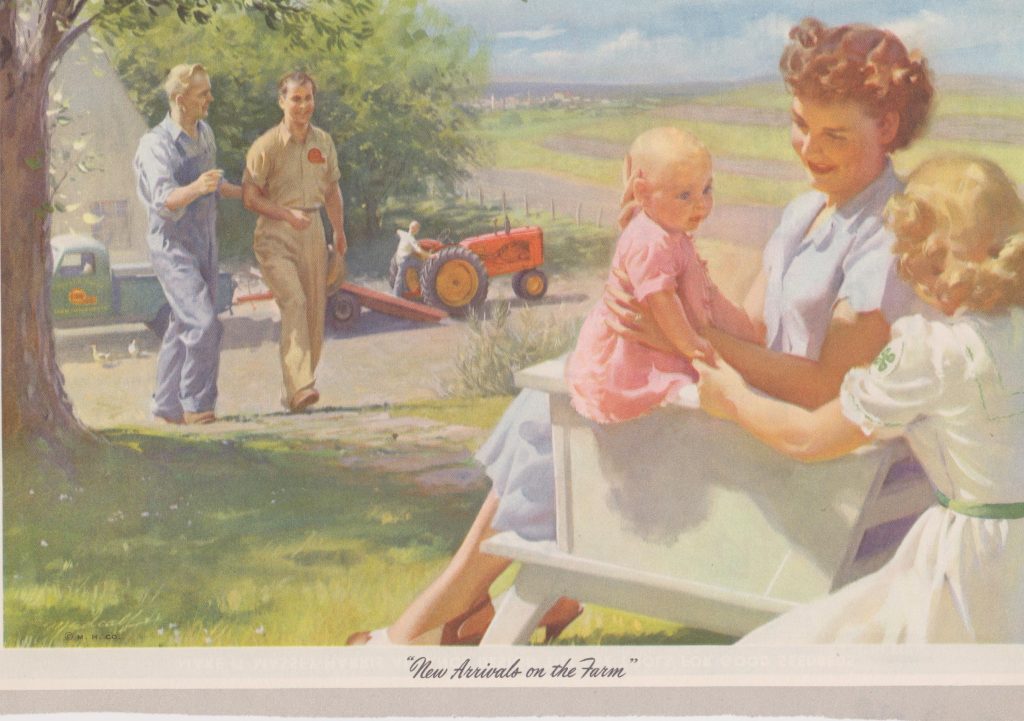 And last but not least, of the good things I desire for this daughter-o'-mine, are peace, a love of nature and time for quiet, happy thoughts. Can they be had by any other class of working people as easily as by the woman on the farm? She doesn't rush to finish her work that she may spend a day bargain-hunting–a day of hurry, worry and "me-first" thoughts; of spending money she shouldn't spend and gazing at things she wants and can't have. No; she may sit on the front porch a bit while she sews or mends or perhaps reads her most helpful magazine (to me that means The Farmer's Wife.) She will see and feel and hear the beauty of the world–her world–and with an unruffled spirit she will go in and get supper for her hungry brood.

And so, folks, I want my daughter to marry a farmer, a good man, upright, steadfast and true, with visions of the farm-life-to-be in his heart. Then, hand in hand, they can work to make their dreams come true, and she will know the happiness I have known. I could not ask for more.
A note from Laurie: The Farmer's Wife magazine lists Mrs. S.O. from Mille Lacs County, Minnesota, as the writer of this letter. The listing using "initials only" was standard procedure for all but the first, second and third place prize winning letters. For nearly thirty years I believed that no other information was available about the authors, but I recently discovered a complete list of their full names in the May 1922 issue of The Farmer's Wife magazine.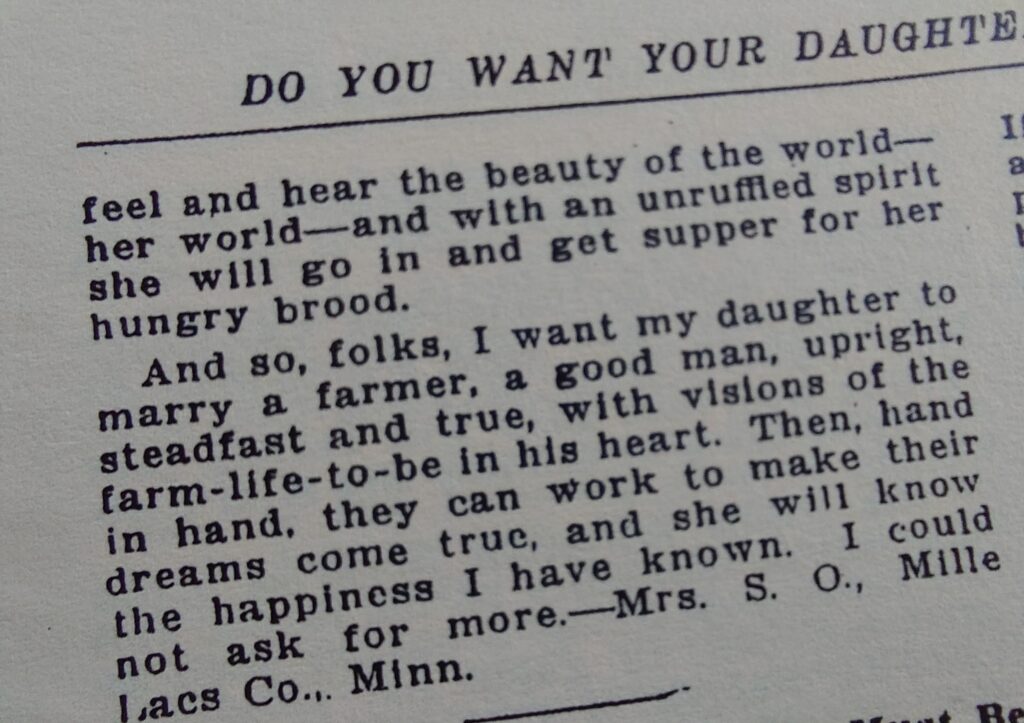 This letter has always been one of my favorites. I had pictured this woman in her late 30s or early 40s, the mother of a large family, describing her life in 1922. In reality she was only imagining what her future life would be. Mrs. Stuart Hannibal Oliver (Emma Elizabeth) was just 26 years old when she wrote her letter. She had been married for three years and was the mother of two children; a two-year old boy, Glenn, and infant Elizabeth Lindsay, her "wee daughter." Emma's dream of a large family never materialized, but at the age of 42, she gave birth to her third child, Patricia. Since Patricia's middle name was "Joy," it can only be imagined how happy Emma was with her unexpected baby.

Did either of Emma's daughters marry farmers? We know that "wee daughter" Elizabeth did not, since she died unmarried at the age of 31, but who knows about Patricia Joy, who did grow up to have a husband and children.