With the exception of one aspect, I have truly loved my 40+ years of being a housewife. What is my one exception? The following old saying states it best: "A man works from sun to sun, but a woman's (housewife's) work is never done." Since my home is my workplace, my many duties are always in plain sight staring at me, begging to be done! Although I knew that I needed a change of perspective rather than a change of job, I was never able to grasp a solution to my problem until now. A teenage girl from Nebraska, born more than a century ago provided me with the answer.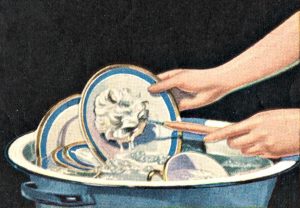 I am a high school girl and know the meaning of hard work. My mother is an invalid and I have five brothers and sisters and so have housework and school work both to do.
I want to tell you of some magic words I found. Maybe you will not think they are magic if you read them casually. I don't know who wrote the verses but I do wish every harassed house mother and others who are overworked, might try their potency. Read them slowly with the idea of getting their full meaning. There is something almost mysterious about the way they fit each hard day.
"When spurred by tasks unceasing or undone,
You would seek rest afar
And cannot, though repose by rightly won,
Rest where you are.
"Neglect the needless, sanctify the rest,
Move without stress or jar,
With quiet of a spirit self-possessed,
Rest where you are.
"Not in event, restriction or release,
Not in scenes near or far
But in ourselves are restlessness or peace,
Rest where you are!
"Tasks, unceasing or undone," which spur you unmercifully on–isn't that sometimes true of housework? If you cannot be spared for a vacation, why "rest where you are!" I know it can be done.
"Neglect the needless" and half of your load is lifted. "Sanctify the rest." After all is there any office on God's green earth so well worth filling as that of caring for your home?
"Move without stress or jar," in other words, take your time and do not worry. Now say the rest slowly. It is magic!
I may be little but I have found the magic within which makes me bigger than the biggest day's work that ever comes my way.