Cora Belle, a half child, half grown woman was so unconsciously brave, so pathetically buoyant, asking little of Life and receiving so little. She lived with her grandparents, two useless old people who drank up each other's quack medicines and frightfully neglected their poor little granddaughter. She was stout, square-built little figure with long flaxen braids, a pair of beautiful brown eyes, and the longest and whitest lashes you ever saw, a straight nose, a short upper lip, a broad full forehead–the whole face, neither pretty nor ugly, plentifully sown with the brownest freckles.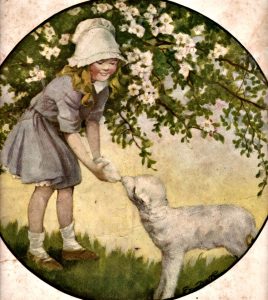 The child did all the housework for her rheumatic and ignorant grandparents and took care of the livestock. From the big sheep men that passed their way, she begged the "dogie" lambs which they were glad to give away, and by tender care she preserved their lives. Soon she had a flock of forty in good condition and preserved from attacks by the wolves. The next step in her progress was that she began to help cook for the sheep-shearer's men in order that her sheep might be sheared along with theirs. The one to whom she appealed was kindly disposed and he hauled her wool to town, bringing back to her the magnificent sum of sixty dollars, all of which she soon had the hard luck to see paid out for more quack medicines. And Cora Belle went on wearing the poor gingham skirt that was so unskillfully cut that it sagged in the back almost to the ground. No wonder that this unselfish, hapless little girl touched the heart of the capable young woman homesteader so that she made a party all for her, giving her a few simple presents, some underclothes made of flour bags that she had carefully preserved, a skirt of outing flannel and a white sunbonnet built from a precious bit of lawn and trimmed with an embroidered edging.
Cora Belle came to the party driving her lanky old mare, Sheba, hitched up with the strong little donkey, Balaam, who balked every three miles and had to be waited for. The grandparents were in behind all wrapped in quilts, and they were as astonished as modest Cora Belle herself to find that it could enter anybody's head to appreciate and honor that small child. Now–good luck to all the Cora Belles! And may everyone of them find such a friend as this girl had found!