This post may contain affiliate links. Read my disclosure policy here.
Here we are again in the middle of December, the height of the Christmas season. For me, the time from November 1st to January 1st is jam-packed with Christmas music, lights, movies, food, and hopefully lots of snow to set the mood. Getting my fill of the holiday to last me until the next November is focused work and pity the person who doesn't like to wake up to Christmas carols in this household.

Music, movies, and food are ubiquitous during the holiday season, but what about Christmas stories? Yes, it's probably difficult to slow down for a quiet activity like reading. But it's another way to enjoy this special season if you're able to take the time.
Everyone knows the story of the Nativity, A Christmas Carol, and "Twas the Night before Christmas." As well known as the stories are, people seldom take the time to actually read them. But you should! I notice something new every time I read one of the familiar stories. Every Christmas season, I pull out my old and new favorites to enjoy.
When you're finished with those, here are some more that you may not have read….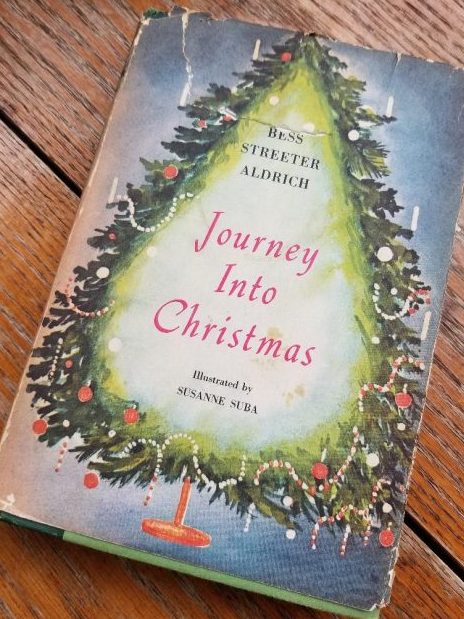 Journey into Christmas. I found this copy last January at a used book store and saved it all year to read this Christmas. Bess Streeter Aldrich is one of my favorite authors. If you enjoy cozy stories about home and family, I highly recommend her writing. Some of the stories are excerpts from her longer novels but others are stand-alone short stories. This is a collection of just her Christmas-themed stories–old-fashioned vignettes of family and simple living. I read "Youth is all of an Up and Coming" for the first time last night and the ending took me completely by surprise. Oh, the scandal!
Did you know that Charles Dickens wrote more Christmas stories than A Christmas Carol? I have this particular beast of a book that my husband bought me, but you can get a similar edition here. (And if you like the e-reader format, you can get the ebook here for a song.)  The book includes The Chimes, which I have in a separate, antique edition titled Christmas Stories. I've started it several times, but this is the year I read the whole thing, I've told myself.

Another of my favorite discoveries is this little ebook gem, called Evergreen Christmas Readings. Although I'd much prefer to read actual, physical copies of books, especially the old, hardbound, slightly musty kind, I'm glad to be able to read these old stories in any form and that they haven't been lost to history. Anyway, this bargain has everything Christmas–stories, poems, and carols, all by classic authors. The collection includes authors I know, such as Harriet Beecher Stowe and Lousia May Alcott as well as many "new" authors of the past. I even found a story I've long looked for but didn't know the title, which I've learned is called "Papa Panov's Special Christmas" by Leo Tolstoy.  (It was dramatized years ago by Moody Radio under the title "Where Love Is.") It will take me years to read through this collection, but that's perfect. By the time I finish I can start all over again.
Here are a few other shorter vintage Christmas books I've discovered that you can find also digitally:
The Christmas Angel by Abbie Farwell Brown
On Christmas Day in the Evening by Grace S. Richmond
On Christmas Day in the Morning by Grace S. Richmond
Campion at Christmas: Four Holiday Stories by Margery Allingham
Merry Christmas and happy reading!