When I was a little girl at home, I was unsatisfied. I had lots of troubles and disappointments, brooded over them and could never see the bright side of life. An old lady who had lost all her relatives came to live with my folks. She had her share of troubles, the poor old soul. We adopted her and called her Auntie.
She took a liking to me, although I do not see why she should as I often thought I was the most miserable child in the world. I was sensitive and easily hurt and many times I would go off by myself and cry myself to sleep. Old Auntie would come and sit down by me and read to me from her Bible. Then she would listen to my troubles and tell me they were very small to what other people were suffering in this world and she always would end up by saying: "Troubles and cares will do you good, my dear. Ask God to help you see the good."
One day Auntie told me about New Year's Day. I did not know that it was the day to "turn over a new leaf" and try to be a better girl. I was nine years old at the time and have been trying to change ever since.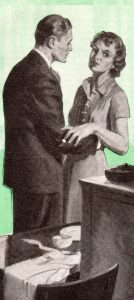 I did not marry a rich man but I married a good man. We started out on a homestead in Montana. We were out on our homestead five years and were dried out every year but we proved up and it is ours now. My husband had to work out away from home and leave me to hold down the claim. We had two children then and I would take the two and the rifle and hunt rabbits and sage hens for food. When I would see anything to shoot, I would put the baby down on the ground and tell the other child to stand by him and then I would shoot my game.
One day, my tooth began to ache and I walked the floor for three days and nights and could not find any relief. Then baby got sick and I carried him on one arm and held the hot water bottle to my face with the free hand. I walked the floor this way until I was so tired I could not feel. Finally my jaws swelled shut and I could not eat. Then I took the two children and put them in the baby cart and hauled them three miles over sage brush and rocks to my neighbors' house. They took me to the doctor, twelve miles away, and I had my tooth pulled. All the time I was suffering so, I could just seem to hear old Auntie say, "troubles and cares will do you good, my dear."
The did do me good. I see life in a different light now. We came to Wisconsin and here is our great purpose for 1923: to get a farm and make good. And I want to help everyone I can to see the bright and better way, and to remember this: one can never have such great troubles that others have not had worse. So I shall forget me and think of others.