I usually focus on worthwhile thoughts written by other housewives but I thought I'd take a long-winded, more personal angle today….
My life flip flopped in a big way this past year. When I my husband and I married 13 years ago, we took over the property that had been in my husband's family for about 60 years. Because of the unique ownership situation, we figured we'd be there until (at minimum) we retired, but more likely, forever. Then last summer, one unexpected circumstance led to another, and in a surprisingly short amount of time, we decided to sell our house and move halfway across the country.
Making the decision was, by far, the easiest part of the process.
My husband's grandparents had bought and renovated the house in the 1940s, then his parents lived there for many years before moving to the small house on the other side of the property. My husband and I married and moved in, each bringing modest households from our single days. I immediately discovered we'd moved into a fully furnished home, complete with family heirlooms, furniture, appliances, linens, cleaning supplies, even food in the chest freezers. Besides the four bedroom house with a full basement apartment, we came into possession of a two car garage with loft and workshop, a large woodshop, and an underground fallout shelter (I mean, naturally, doesn't everyone?) And if that wasn't a barrel of fun right there, there were 9 different flower beds and a huge garden with all the seeds, tools, and miscellany one could want.
So with the decision made, for the next 11 months we organized, sorted, culled, donated, sold, trashed, boxed, and packed up 73 years worth of stuff. We got a top seller badge on Facebook marketplace, had 5 garage sales, kept a box of books in the car to fill every Little Free Library we saw, distributed heirlooms to relatives, and maintained a modest curbside array of treasures free for the taking.
I often joked that I was the curator of the family historic society but it really wasn't a joke. We took hard looks at our antiques, as much as I appreciated them. Yes, they were old and had been in the family for decades, but did we really want to haul the antique wooden sleds Grandpa used as a boy across the country just to keep in a storage unit? Were we obligated to keep the entire pile of afghans just because Grandma B had crocheted them? Or the hundreds of 78 records, just because they were old, even though we may not even like the particular song?
In the end, we kept only what we truly wanted and what worked for our needs. We've calculated that we downsized 75% of our possessions. And if you saw my canning jar and book collection, you'd know that I am far from a minimalist. It was a difficult and exhausting year, but I am so glad I did it.
What were some of the lessons I learned?
I never want to host another garage sale for the rest of my life. Or have enough stuff to be able to have one. All that time spent sorting, pricing, arranging, and sitting in a cold garage while strangers pawed through our possessions was demoralizing and made me see with new eyes how draining "stuff" can be. While the money we made paid for the move, I feel like we worked for pennies an hour.
I don't need to keep things that don't bring me value just because someone else values them, or did at one time. My husband pointed out to me while sorting through family items that the reason we had them in the first place was because someone else didn't value them enough to take with them. (That was a revolutionary thought for yours truly.) We definitely didn't get rid of everything, but kept only our favorites. It's interesting to note that many of our "keepers" were things we had bought ourselves.
Quality over quantity. I've known this in my head but it's taken on a different meaning as I live it out. Instead of searching through 6 tins for the one spool of thread I want, I now have just one that contains my most used colors. Options can be overwhelming! We only need a few favorite quilts if those are all we ever use. It's pointless to store countless blankets that we've literally never used, just "in case."
I don't even miss the stuff! I've yet to regret anything that I got rid of. I went from 4,800 square feet of indoor space on our property to (for the moment) living with relatives with most of our things in storage. When we unpack everything, I'll be interested to see if there are more things that I find I don't need.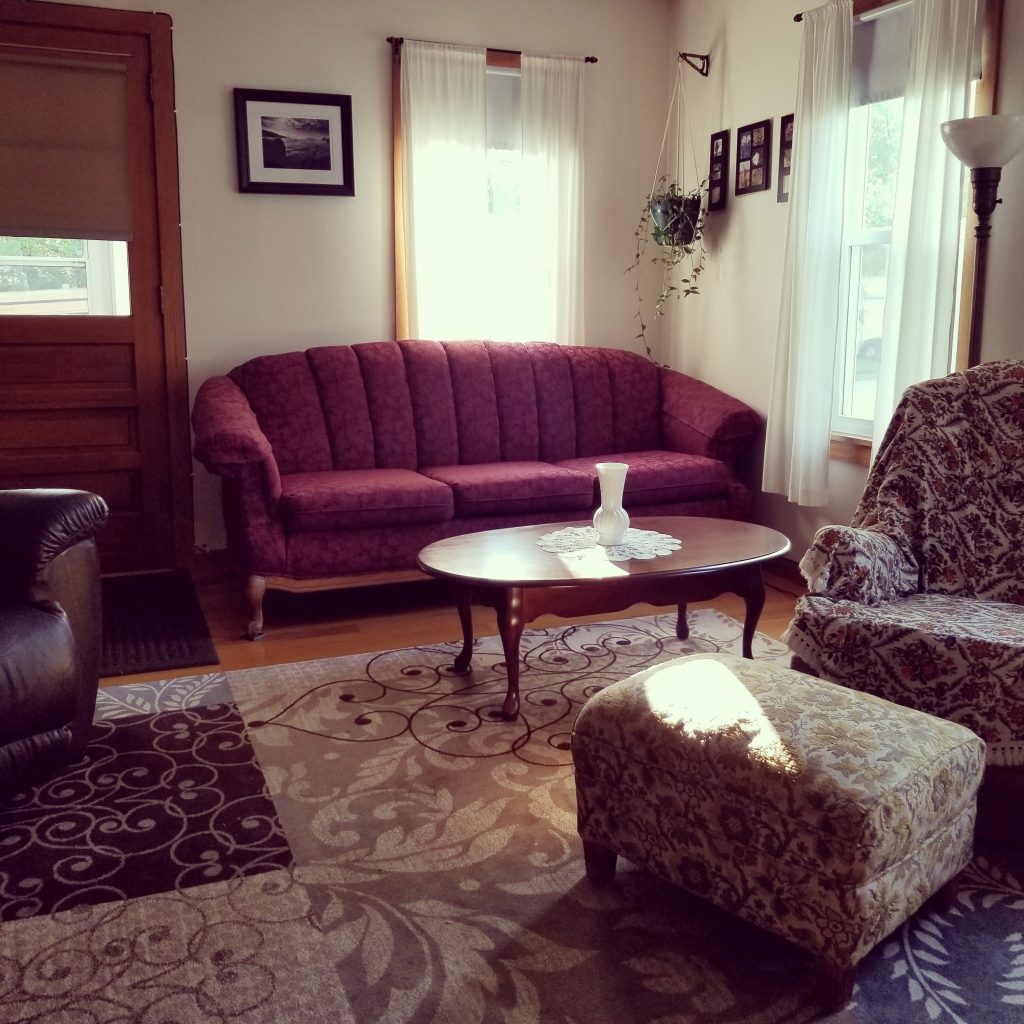 In case I sound ungrateful, I'm not. We were blessed in ways that most newlyweds aren't and I'll never know why. It was good for that time, but clearly, that time is past. Goodbye familiar little town in Wisconsin, hello daunting big city in Texas!