While not homemaking related, this will be an item of interest for those who've enjoyed my book.
Earlier this summer I realized that I was in the neighborhood of the Amish schoolhouse where I taught during my second year of teaching. I asked my husband if he could pull into the driveway so I could take a picture. The schoolhouse sits on the property of an Amish family but since the farmhouse was further down the lane, I assured him it wouldn't be awkward.
I had taken several pictures of the community's first temporary schoolhouse (here) but for some reason, I never took a picture of this particular schoolhouse.
The outside has changed a little–part of the porch is now enclosed and a second smaller building sits on the gravel area where I used to park my car.
I took the picture above, then to my husband's horror, I tried the door of the schoolhouse. As I'd guessed, it was unlocked. I figured that if by chance someone came to investigate, I'd wind up in a nice chat with an old friend, or at the least I'd meet a member of the community who'd joined since my teaching days. My husband didn't even get out of the car to retrieve me, he just sat, appalled, wondering how he came to be driving a getaway car for a schoolhouse snoop.

Because school wasn't in session, much of the personality was missing–no charts or children's artwork on the walls, no left-behind coats or lunchboxes and lacking that comfortable lived-in look. Still, the room was remarkably unchanged.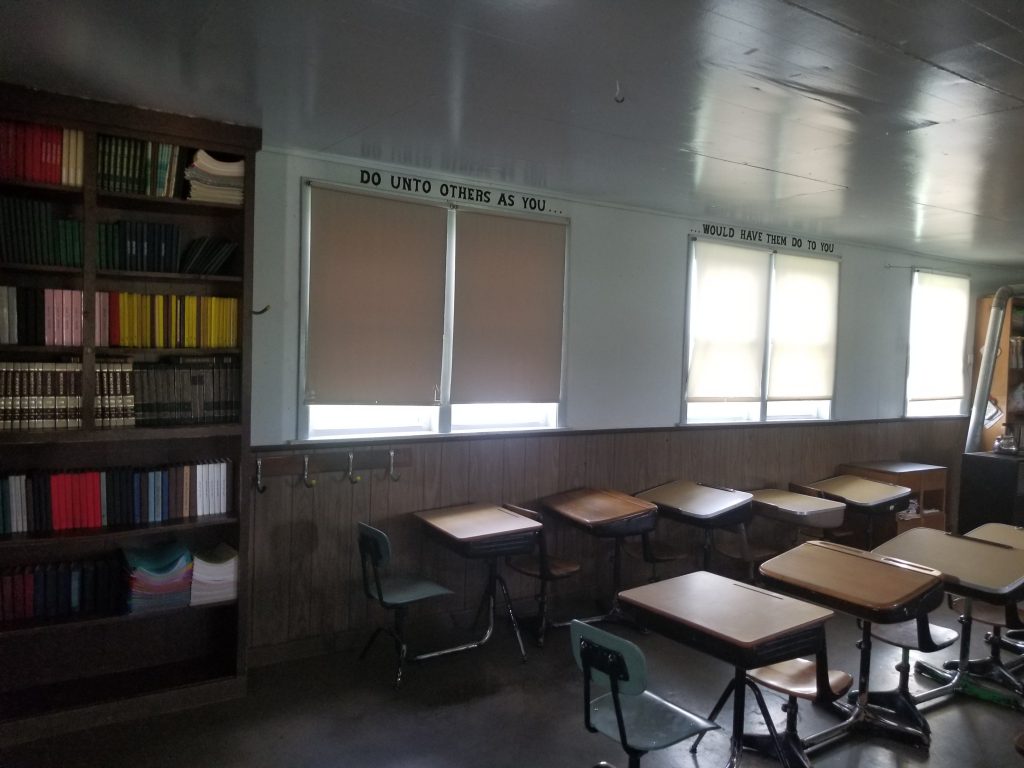 Oh, the old blackboard…. During the course of the day, we'd use the entire length of this same blackboard for arithmetic problems, penmanship practice, poetry memorization, and all the other reminders.
Two my favorite things in the schoolhouse were the penmanship charts and the pull-down vintage map of the United States attached to the top of the blackboard. The map came from a closet in my house, one of the leftovers from the previous owner.

This little bookshelf, where I kept all my teacher copies, was a gift to me. I left it to my successor and am glad to see all the teachers since have done the same.
No one ever did stop in to check on me or unfortunately, question my husband about trespassing. But I was glad after so long to get a peek into the old schoolhouse.