This summer I'm comparing Charles Dudley Warner's gardening journal, My Summer in a Garden, to my own garden. I'm finding that I can relate to many of his perspectives, and as he describes the second week of his garden's progress,  his thoughts are centered on weeds.
Hardly is the garden planted, when he must begin to hoe it. The weeds have sprung up all over it in a night.
Ain't that the truth. Warner continues…
The most humiliating thing to me about a garden is the lesson it teaches of the inferiority of man. Nature is prompt, decided, inexhaustible. She thrusts up her plants with a vigor and freedom that I admire; and the more worthless the plant, the more rapid and splendid its growth. She is at it early and late, and all night; never tiring, nor showing the least sign of exhaustion.
I'm in the middle of that long wait for my seeds to sprout (or not) while weeds merrily enjoy their head start. I always hope I can identify my seedlings by the time they come up, but if I can't, it becomes a "Where's Waldo" kind of adventure. Here are two examples from my vegetable and herb garden this week.
Can you see the lettuce seedlings? The teeny light green sprouts in the center of the picture? Besides the fact that the weeds are much bigger than the seedlings, I'm also a little bothered that there are so few lettuce sprouts, but that's a whole other problem.  I may just have to replant.
And then there's this little disaster zone. Can you spy the dill among the quack grass? (I can barely see it myself but there's actually quite a lot buried in there.) Sigh.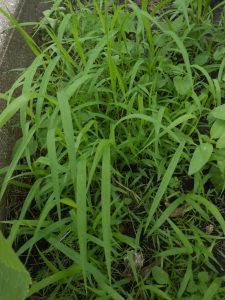 On the whole, though, my garden is off to a good start and not completely overridden by weeds, but we've had a lot of rain this early summer. I've had to watch the weeds helplessly from the sidelines as they have their way with my baby plants. But with less rain in the forecast this week, I hope I can get some of my weedy spots under control.
A final quote from my gardening friend, Charles–
…there is no liberty in gardening. The man who undertakes a garden is relentlessly pursued.
Weeds. They're after me.