100 years ago and as true today as ever!!
Strength for to-day is all that we need,
As there never will be a to-morrow;
For to-morrow will prove but another to-day,
With its measures of joy and of sorrow.
Then why forecast the trials of life
With such sad and grave persistence,
And wait and watch for a crowd of ills
That as yet have no existence?
Strength for to-day! What a precious boon
For the earnest souls who labor–
For the willing hands that minister
To the needy friend or neighbor.
Strength for to-day–that the weary hearts
In the battle for right may quail not,
And the eyes bedimmed by bitter tears
In their search for light may fail not.
Strength for to-day, in house and home,
To practice forbearance sweetly,
To scatter kind words and loving deeds,
Still trusting in God completely.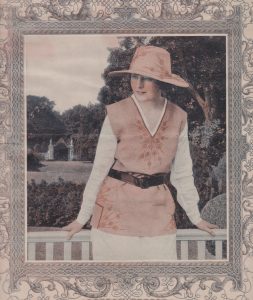 Isn't that a fine poem, sisters? It means a great deal–do you not think so? I used to get so blue and discouraged I did not know what to do, going on in the same old treadmill, with no possible "let-up" or change of view; at such times I would stop and read this poem over slowly, trying to get the inner sense of every line; and then I would say to myself: "Well, there's one comfort; I have only got to get through to-day and do the best I can. The work that is right ahead of me now is all I've got to look out for." And after I had reasoned things out this way with myself, I found I could keep at what I had to do and not get half so tired.
Now we are getting along splendidly, have started payments on our own place, and you couldn't find a happier household anywhere. So I say, sisters, when you get to thinking of the work piled up ahead, and of troubles that may come–just don't! You've got the strength to go through to-day, and you haven't anything to do with to-morrow until it arrives–and then it will be to-day. It surely does make a great deal of difference how you think about things. If you say to yourself that everything is sure to come out all right, and there's nothing to worry about, and act as though you believe it, going around smiling and cheery, you can't think how much happier you and everybody else will be, and how the clouds that look so dark will really break away. I know, for I have tried it and have proved that "the trick works."