It had been a hard day.
I looked at my cross, tired face in the glass and noted bitterly, almost savagely, its lines of care; its drooping lips of dissatisfaction; its worldly eyes, and aging, yes, its unpleasantly aging, expression.
It was a depressed, discontented face that stared moodily back at me, and I did not like it.
"What's the good of it all?" I muttered, sitting down on the edge of the bed and addressing, vindictively, no one or no thing in particular.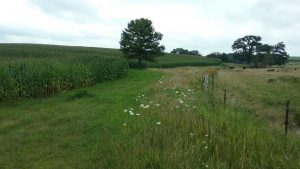 "What's the use, tell me that," I growled, banging my shoes, aggressively on the floor, "will you, of living, of life, anyway? Just moiling along day after day, to earn enough to keep you moiling along the next one. Ugh! I could have thought out a better world and system than this, myself, I do believe. It's just a shred and a patch of creation, not getting anywhere or doing anything; anything worth while, anyway." And so, with complaint and self-pity and discontent and all uncharitableness, my eyes closed and I was asleep.
In my sleep I dreamed. I thought I was walking along a shaded lane. Beautiful trees lined either side, both behind and before me. I could catch, though, occasional glimpses, when I raised my eyes, of rare cloudless, blue sky, far above. The lane, or road, stretched straight ahead, miles of beautifully shaded thoroughfare, until at a great distance, it reached a green hill, on whose summit I could see the sun shining.
All my discontent had vanished. I walked calmly, serenely, along the lovely road and my soul was at peace with itself and the world. I did not know where I was nor how I came to be there. Nor did I care. I was glad to be there and I hummed a merry tune as I sauntered along; one that belonged to the happy days of Long Ago Youth, and which I thought I had forgotten.
I saw flowers and tame wild animals but I did not pluck the one, nor scare away the other. Why should I?
It was so good to be alive that I would not have dimmed a ray of the day's joy by shortening the brief life of a gay blossom, or disturbing the rambles of my little dumb brethren.
Presently, I saw afar off, a form appear on the top of the green hill. I watched with joyful interest. It was a woman. She was, I noted, as we drew nearer, stately in form, dignified of movement, and, where had I heard that phrase, "nobly planned."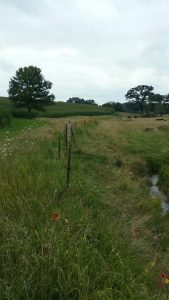 I muttered it confusedly as we approached.
"A perfect woman, nobly planned." It described her anyway, that was certain.
We met. We clasped hands, and as I looked up into a face so calm, so benign, so peaceful, so free from hint of
passion or uncleanliness, yet so full of wisdom and dignity, I felt both abashed and comforted.
We did not speak for some time. Then as I gazed at the noble face of the woman, I suddenly saw a resemblance.
"Why," I exclaimed, in all sincerity, yet with abasement and amazement, "You are like me!"
She smiled down at me and clasped more closely my hand.
"I am you," she replied, in tones that were like the sweetest music. "I am what you should have been; what you were meant to be."
The vision faded as it spoke. I held, or tried to, madly, the loosening hand and cried, "Oh, do not leave me, stay."
I could not keep her, but as road, hill, woman, birds, flowers, all disappeared from my longing sight, I heard these words, this promise–
"Be Comforted. Be Comforted and Hope. I am what you yet shall be."
I awoke from my dream and life was labor again, and oft the labor seemed great and the gain small, and I was still careworn and wrinkled and weary, but the memory of my dream abides with me and who shall dare deny, but that in some life, somewhere, sometime, I shall become through much tribulation, perhaps, but with final certainly, that which I was meant to be.
And this dream that I dreamed, was it for myself alone, or was it not meant rather for all the great sisterhood of women toilers; weary workers who lift tired, oft rebellious eyes and empty work-worn hands, to a silent Heaven and ask, "Why and for what was I born?"
It will be, I like to think so; to believe that in some Great Coming Time to Be, we shall all be what creative Love and Wisdom planned.
And God shall wipe all tears from their eyes; and there shall be no more death, neither sorrow, nor crying, neither shall there be any more pain: for the former things are passed away. Revelation 21:4