Here's an adorable story from 1916….
Everyone in the house had had a party except Grandmother. Mother had entertained twenty friends at cards and Janet had had a dancing party. Bob had a fine time giving some of his chums a sleigh ride following with a dinner at the club and Father had just bowed his last guest out from a dinner.


"Now it's Grandmother's turn," said loyal Bob. "She ought to have a party. And have a party she did.
Never was more pleasure given to twelve elderly ladies than was theirs on that lovely September afternoon. The whole family entered into the spirit of the affair. Bob insisted that his part was to get the flowers and vines to decorate the house and Janet could arrange them. "I'm not going to have any of your ordinary garden stuff," he announced,"anyone can have that. Grandmother's party is to be the best ever."
He always knew just where the most decorative things grew in wood and field and often brought home specimens the family had never seen nor heard of. So he came home laden with quantities of bittersweet, clematis, goldenrod, asters and the lovely berries of wahoo, Solomon's seal and the wild smilax. These gave the keynote to the affair and the party grew into a real autumn party in every way.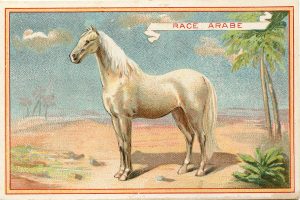 Twelve of Grandmother 's friends were invited and word was sent to them that they would be called for at half past two o'clock on Thursday afternoon. In the neighborhood lived a man who was the proud owner of an old white horse that could hardly ever be persuaded to hurry. He had, too, a comfortable surrey with low steps, exactly right and easy for elderly people to step into. Mother asked him to call for all the ladies and then later (after supper) to take them home, especially the ones who were not well and strong.
It was a pretty picture, this one of twelve ladies in dainty gowns sitting with their work and visiting about people and customs of long ago. They had dainty work in light pretty colors—baby socks and lovely little sweaters, mittens and wristlets and beautiful stripes for bedspreads. After a while three little tables were brought in, each one daintily spread and decorated with Bob's choicest berries. At each place was a four-leaved clover attached to a card that bore an appropriate wish. Then came refreshments, just the things that were dear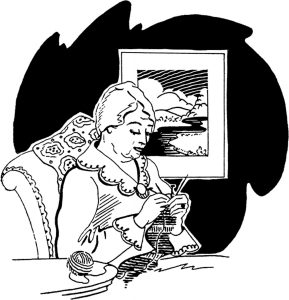 to their hearts—the things they used to serve long ago! There was pressed chicken and cold tongue, raised biscuit, pickled peaches, dainty little crullers, pound cake and quince sauce. They sat and chatted and sipped their tea as only dear old ladies can. After supper Janet read a story—one of Mary Wilkins' best, The Parsnip Stew. (You can read that very story right here.) Then someone suggested a song and the picture of those happy grandmothers leaning back in their rockers, singing the old familiar words, "Should auld acquaintance be forgot," will be with me ever. Never was music sweeter and never did words come from happier hearts.
The old white horse came entirely too soon. With many a sincere word of appreciation and joy, the guests drove away and Grandmother sat down to think and talk it all over and to tell us that after all her party was the very nicest of all, to which Bob responded heartily, "You're right, Grandmother. It was."—