More than 90 years ago, Alice Robinson from Ohio won first prize in a contest where she was asked to describe her "Prince Charming."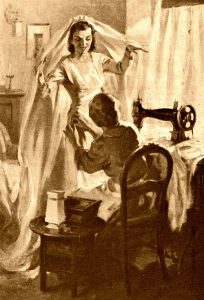 "If you had asked me not too long ago, I would have said that he had to be tall and dark with wonderful brown eyes. But he has come and our little home is being built. Just after the New Year, the most wonderful honeymoon that ever happened (to us) will be in progress.
My real Prince is as little like my dreams as anything could be. His light hair and blue eyes (which are always shining with kindness and merriment) are more wonderful to me than I ever dreamed anything could be. I dreamed of a rich man who could furnish me with a magnificent home. My merry farmer lad is giving me a tiny bungalow with everything modern and convenient, if you please, which no one would call magnificent, but everyone would say was adorable; they couldn't help it. And in it with Christ's help and blessing, we shall be happy, forever and ever because I know I am getting the world's truest and best. And 'he' says he is satisfied."
The following is a simple plan for a garden wedding. What a lovely and unstressed way to marry Prince Charming!
My cousin is going to be married early this summer and we are planning for the happy event together. Neither of us have any sisters so we are real chums even though she is a little older. They have a large shady lawn with pretty flower beds and bushes on it and she has chosen this pretty place instead of the church or house for the place of the wedding. My mother has given us permission to take over our piano and I am to play for them. My brother has a lovely voice and he is going to sing several pretty songs that cousin has already chosen. We are going to decorate the lawn with rugs and benches and the prettiest pillows we can borrow from our friends. Brother will make an altar near the piano. We shall borrow the large candles and candlesticks from the church so that in the evening the lawn will be lit up and that is when it will show it's splendor. The altar and piano we shall decorate with wild flowers. The ceremony will be before dinner and the reception held under the shady oak trees out on the lawn. We shall make everyone present feel that my cousin's outdoor wedding was a happy and successful affair.