Here's a day-in-the-life glimpse of a joyful homemaker. I hope she gives you a little inspiration as we start a new week!
It is dusk. The children and I have just come in from the corral, where I milked seven cows. I am so in love with life that I find a day very short to hold its allotted joys.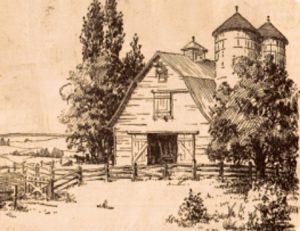 First, I awoke a little earlier than usual this morning and lay thinking over the "had-to-be-dones." It is baking day; but that is a glad-to-be as well as the other, because I love to experiment outside of the cookbooks. At half-past five I arose and by half-past six had breakfast on the table and my bread set. By eight o'clock we had breakfasted and I had the seven cows milked. How I love my gentle cows! What an inspiration their calm patience is! And I love to get out at that hour. At this altitude the mornings are always chilly but by eight it is pleasant. At half-past eight I had the three larger children dressed and at breakfast, while I ran the milk through the separator. While the children finished, I went again to the barnyard, where I fed my little chicks and turkeys and looked after the rest.
I have two rows of flowers between the barnyard and the house, so I stopped a few minutes to smell the sweet-peas, to admire the gorgeous colors of the poppies, and to pull a few weeds. By ten I had Baby bathed and all his little wants attended to, the breakfast dishes and the milk things washed, my bread in the oven and my dinner started. So I sat down to churn and to read while I churned. I use an old-fashioned dash churn, therefore I have an excuse for sitting down. I am glad of it, for I can read then.
By twelve I have my sweet golden butter printed, have heard my daughter's lessons and have dinner ready. By half-past one we have had dinner and I have the kitchen in order and we all lie down for a rest. At two I begin making the beds, by three the whole house is straightened, so I have two hours for myself. I read a little story for the kiddies and then send them all to play while I read a little. I write a couple of letters and then go out to hoe and pull weeds a while.
I cook most of my supper while I cook dinner so I can prepare supper in a few minutes. So I feed my biddies, and the children gather the eggs, until we hear the men coming in from the field. By seven o'clock we have had supper, and Baby is put to bed. Daughter helps me put the kitchen to rights.
Then comes the goodest part of the day. We go to milk. Daughter and Son sit in the wagon out of harm's way and I milk. We all enjoy the beauties of the sunset, the beautiful colors, the crisp little mountain breeze. By nine the kiddies have had their bath and are in bed. Daddy-man is playing the phonograph so they can go to sleep.
At ten o'clock my day will be finished. I shall finish this paper and read a little with Daddy-man and then it will be my bed-time. As I finish I see I have left out many little joys. I have kissed little hands to make hurts well perhaps a dozen times. I matched some colors and cut some blocks for Daughter's patchwork quilt; I made a finger-stall for the hired man. I have answered the 'phone a few times and–Now if some university can help me to make my days more elastic so that they can encompass all my joys comfortably, I shall be glad. There's so much I want to do but–Good-night!