But wait…there's more! I hope that you, like me, have found this description of a young housewife's life and all the facets of her work fascinating. I admire her enthusiasm and creativity.
Raising Children
Lusty appetites must be fed, and the converting of wholesome food into sound minds and sturdy bodies is no child's play. It demands time and thought and energy and imagination. In addition to food, there must be flowers and fresh linen and the wedding silver on my table for I want them to be an integral part of my sons' education. Farm folk need to live as beautifully as any others, and doesn't cost a bit more. It is wholly up to the homemaker.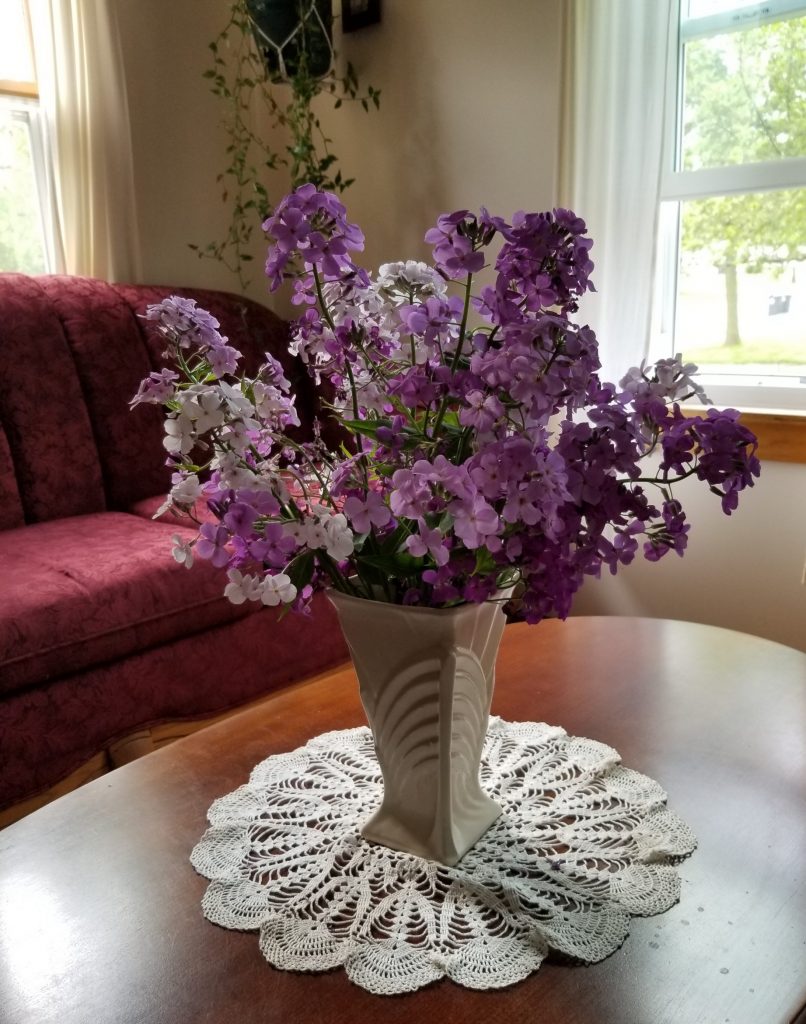 With the help of my partner I have taken entire care of my babies. I have suffered when they cried, and laughed when they smiled; I have known the discovery of a first tooth, and the pride of a first step. It is to me they bring each baby joy or sorrow, and all the freedom in the world could not mean what their confidence means. Perhaps I shall some day do a lot of my lost adventuring through the eyes of my boys, but have quelled my own wanderlust in order to make the little valley a home that will always bring them back from their wanderings. I am sure that I could not have shared their babyhood with another no matter how efficient or well trained. It has been too precious.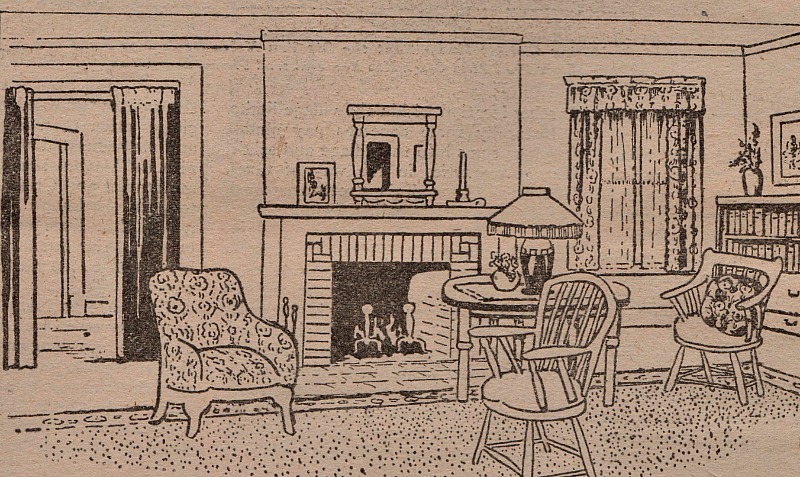 It has not been all roses. There has been thousands of small annoyances like water fights on clean white linen suits and mud pies down the front of rompers that I had worked half an hour to iron. There have been brief spankings and the attendant howls of rage, and the breaking of bits of glass that I particulary loved, like the soft rose beige vase of Brookfield ware. There was one week of zero weather when I took bricks and broke the tiny frozen garments off the clothesline, and there were sleepless nights when both children had whooping cough, and I was sure that they were choking to death before my very eyes. However, there have been plenty of compensations, and I would go through it all again to hear those baby voices saying their "Now I lay me," and to get those good-night kisses. Did you ever hold a baby, all fat and bathed and sleepy and warm, and feel it go limp with the touch of the Sandman? Drudgery? That is Heaven! the heaven of your own creation.
Decorating
I couldn't begin to name all my various undertakings, but I did enjoy being interior decorator. The house was quite the most drab and uninviting I every stepped into, but it has changed. I painted the dark woodwork a rich ivory, (and nearly 80 years later, we are scraping that paint off! :) and tinted the plastered walls. I have ruffled curtains and made and framed silhouettes. I have made footstools of coffee cans, and book shelves from apple crates. I have smoothed and varnished floors, and refinished old walnut furniture that I brought for a song. I even learned to weave cane seats for stubby dining chairs that many have since admired, and an old walnut rocker that I found in the barn loft is now a lovely thing with high back and seat of cane. I have made shades for the kerosene lamps, and added countless gay candlesticks and candles. My living room is a north room with maize colored walls, and a beautiful view. The single oil painting on its walls was exhibited at the Philadelphia Exposition. I took second prize on this room last year in a County Living Room contest, and my only expenditure was my own work and one dollar and a half.
Sewing
All my linens are handmade, and will wear for years. I take great pleasure in keeping the beds snowy and fresh, and I am not at all above piecing together bits of the blue shirt I liked on John, and the babies' first rompers, and my old blue frock and the yellow kitchen curtains and making a quilt of them that will later be tufted into feathery softness. There is something soul-satisfying about sleeping beneath bits of your life sewed together into stars.
Sewing is part of my job, too, for I have to do all my own in order to make the most of the money we have to spend. I sew for myself and the children, and we are not especially "country looking," either. My machine is an antiquated relic, but it sews a straight seam with a bit of persuasion.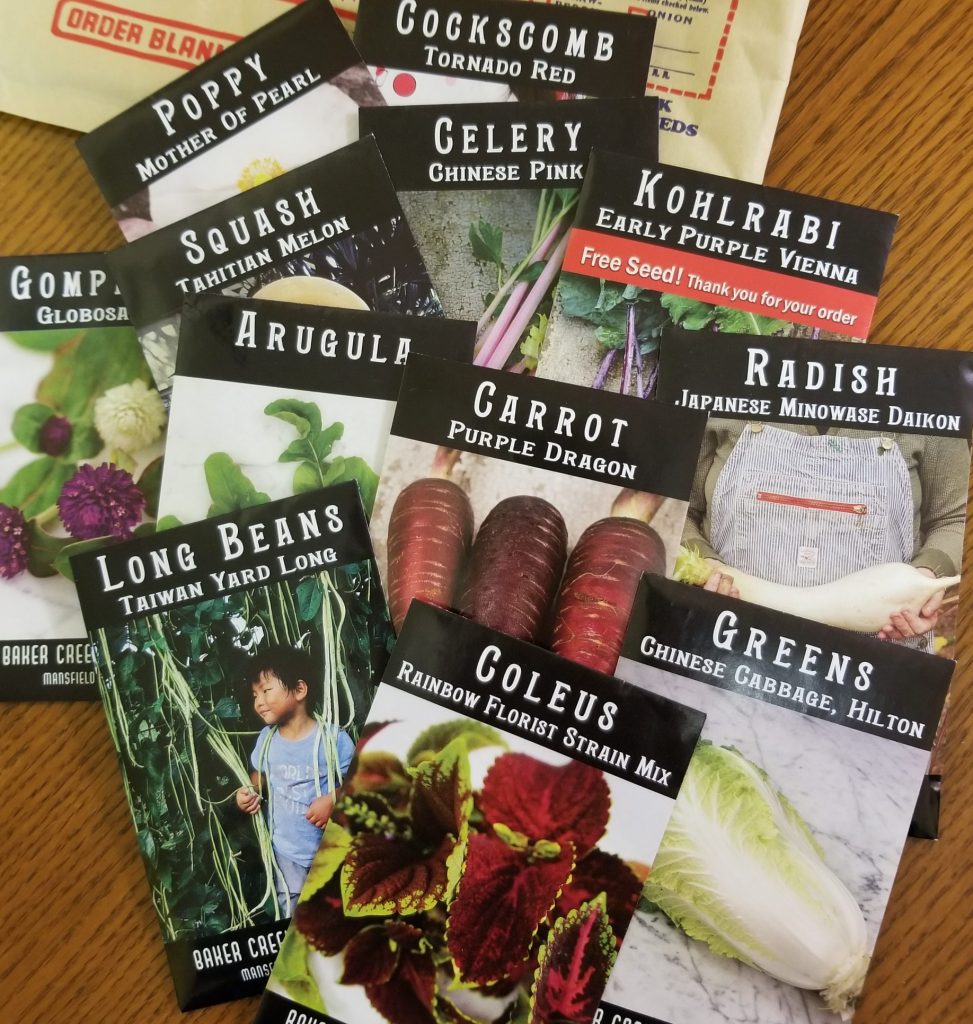 Gardening
I am not a huge success as a gardener, but I am learning, and it is certainly a pleasant task in the early spring to dig and putter in the warming earth and to plan and plant. What gorgeous things it does promise after you have read the seed catalogues, and even if it never lives up to them, still if you are a faithful gardener, you can have green things a-growin' for your table, and beauty for your eyes. Beans and beets and spinach and carrots are important foods for the body, but just as important to me are the early pansies and violets, the purple and pink and white of larkspur and cosmos and phlox and zinnias. They are food for the soul.
My next post will conclude this woman's letter…