I have fully participated in the modern food trends of the holiday season. I've read the cookbooks, watched the baking shows and the Christmas menu videos, and have eaten my share of it all.  It's as if we take all the richest, sweetest, most decadent foods we've ever experienced and cram them into the week between Christmas Eve and New Year's Day, with nary a memory our first round of decadence at Thanksgiving time. Then we wake out of our stupor on January 2nd, stock up on vegetables, and wonder how we possibly survived on pure sugar and butter for so long. It's a wonderful cycle.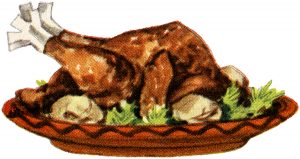 I recently ran across an article written in 1918 on Christmas menu planning. One hundred and two years ago, when the article was first published, World War I had ended just weeks before. In case you're still planning  your upcoming Christmas meal, here's a little inspiration for you…
The war is won! Reconstruction is here! We are to have a simple Christmas this year, for every member of the big Good Housekeeping family is shouldering her burden of war support with man power at the front and money power at home…and the day will prove the richer for its very simplicity.
Here is the suggested Christmas Day menu:
Breakfast:
Grapefruit
Rye Pancakes
Margarine
Coffee
Dinner:
Roast Goose
Hominy Chutney Stuffing
Celery
Sweet Pickles
Potatoes on the Half Shell
Creamed Onions
Yellow Winter Squash
Dressed Lettuce
Cheese Straws
Date and Nut Pudding
Company Coffee Cake
Supper:
Goose Giblet and Egg Sandwiches
Applesauce
Fig Cookies
Tea
It looks elaborate at first glance, but it's actually much simpler than many of our modern day feasts. And so healthy! As for the rest of the Christmas week menus, they're even simpler.  Here is the recommended menu for the day after Christmas:
Breakfast:
Hominy with Raisins
Top Milk
Creamed Dried Beef
Toast
Coffee
Luncheon:
Combination Soup
Crackers
Bread and Margarine
Orange, Banana, and Coconut Jelly
Tea
Dinner:
Tomato Soup
Cold Sliced Goose
Roasted Potatoes
Creamed Cauliflower
Bread and Margarine
Cocoa
Cornstarch Pudding
The menus contain barely any wheat, butter and sweets, all of which had been rationed to provide more for the troops. In its place was an abundance of vegetables. If these menus are indicative of the World War I era, there's hardly a cause for overindulgence anywhere.  
This is just a fun post to show the difference 100 years can make, and how truly prosperous we really are.  (And from now on, baked potatoes in this home will be referred to as "potatoes on the half shell." How very elegant.)