A couple of months after "Unknown's" letter first appeared, a response was written by a woman from Ohio, who signed her letter "Well-known." She disagreed with the perspective of "Unknown", the beet farmer's wife, writing, "I think Unknown and her men do not realize how far a clean, comfortable, pleasant home goes toward getting that beet check."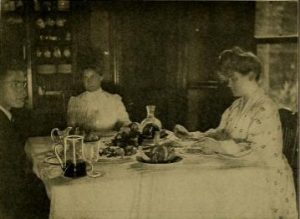 Mrs. Well-known went on to say that "it is only through the economy of the homemaker that most taxes are paid, that there is money for beet seed, etc." She asked Mrs. Unknown, "What would the beet check amount to if there were not three wholesome meals every day? How far would it go if the homemaker did not bake the bread, finish the ironing, care for the children and the chicks, and do the other things 'too numerous to mention'?"
Nearly every year around Mother's Day, someone writes an article trying to calculate the worth of a stay-at-home mother. If someone were to hire a woman (or several!) to do all the tasks of a typical mother and factor in the overtime hours she works, her annual salary is currently estimated from $75,000 all the way up to $143,000! (Suddenly, that beet check isn't going very far!)
For another modern-day example, my husband knows how to cook but dislikes it. He mentioned earlier this week that if it weren't for me cooking for him, his meals would consist of cold cereal, frozen pizza, takeout dinners, or a favorite of his bachelor days–a tube of saltines with a jar of peanut butter. Without me cooking our meals from scratch, grocery costs would easily be triple our current budget and I think it's reasonable to conclude that his health would be questionable.
Mrs. Well-known included this little story in her letter:
The wife of a prominent lawyer in our city was congratulated one day by a leading physician on her husband's success, and denied any part in it. "You do not realize, " the doctor answered, "how far a pleasant, sympathetic environment at home goes toward making a man's success."
Just another example of the incalculable value of the housewife. Happy indeed are the husband and wife who understand it!