…the garden does begin to yield…It is kind of a declaration of independence. I have never read of any Roman supper that seemed to me equal to a dinner of my own vegetables, when everything on the table is the product of my own labor. -1870
I agree and know the feeling of that same independence when I raise, harvest, and store my own food.
It's a game I play often. When we sit down to eat a meal, I often point out the ingredients and where they came from. Of course, I do this most often when a majority of the meal's components are homegrown, but it's fun when I'm able to identify even minor ingredients that come from our own hands and property.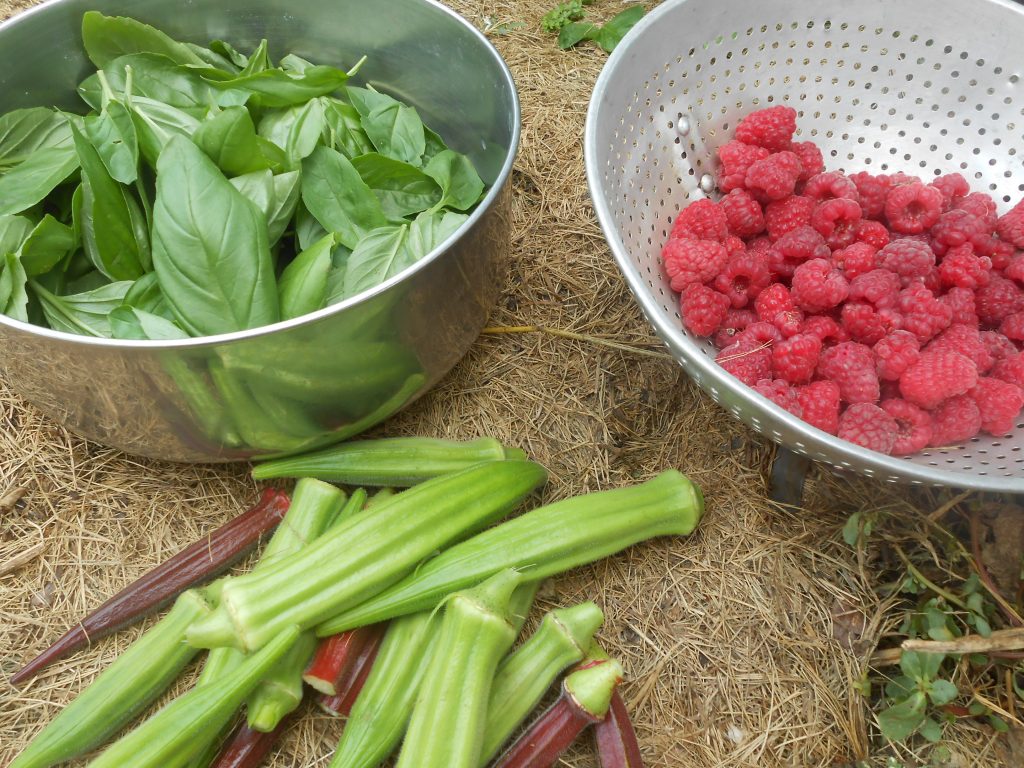 I had my own little "declaration of independence" day this week. Every morning in the summer I do a daily tour through the garden. I assess the progress of the produce to determine how much time I'll be spending in the kitchen in the afternoon. If I've brought a container with me, I'll gather any produce that's ready, which inevitably includes Our Daily Okra.
I'd been planning on making Butter Chicken for dinner that day–one of my favorites. But when I looked at what I'd picked, I knew I needed to re-think my menu. It only made sense to eat what I'd just harvested, instead of processing it all for the winter, then pulling dinner ingredients out of the cupboard.
So, Butter Chicken became Pesto Chicken, grilled okra, pickles, and bowls of raspberries with whipped cream, using our own basil, okra, cucumbers, and raspberries.
From backyard to grill to table in a matter of hours. And it tastes even better when I've done it "all by myself."