It's been a tradition among housewives to keep a general work schedule for the home. Chances are good that you've read about the classic housekeeping schedule that went like this:
Monday-washing (laundry)
Tuesday-ironing
Wednesday-mending
Thursday-marketing/churning/brewing
Friday-cleaning
Saturday-baking
Sunday-rest
It's incredible to think of how many women used that same basic housework schedule for centuries, even into the last few decades.  Rumor has it the Pilgrims landed at Plymouth Rock on a Monday and after consulting Ye Olde Housework Charte, the women did the laundry. What a relief they didn't arrive on a Tuesday. They'd have had to spend the day ironing their stinky clothes before grocery shopping on Thursday. Horrible first impression to give the new neighbors.
As much as I enjoy history and incorporating long-ago traditions into my modern life, even I don't hesitate to admit that this schedule is woefully out of date. I can wash a week's worth of family laundry, hang it all on the outdoor clothesline, fold, and put it away, all within half a day. And I'd be hard-pressed (haha!) to spend more than 30 minutes a month ironing, much less one day a week.
Like any system, a housework schedule has to work for the individual housewife to be useful at all. No system works for everybody. So, inspired by 400+ years of well-scheduled housewives, I came up with my own weekly plan. Of course I have to do some cooking and cleaning every day, but I try to give extra emphasis to one category per day. These are my 5 weekly categories:
Kitchen-batch cooking, baking, and occasional jobs like yogurt, kombucha, etc.
Cleaning-re-organizing, deep-cleaning, decluttering
Office/Errand-paperwork, bills, filing, grocery shopping, library, post office, etc.
Soap-making inventory, packaging, managing online stuff (my little side business, which provides me with "fun money")
Free/Flex-visits, outings, home projects, overflow work
I originally assigned one category every day, like the traditional schedule. I gave that up by the second week, when I was invited to go on a shopping "date" with someone the same day I'd scheduled for cleaning. Having a variable schedule works well for me: it gives structure to my week without forcing me to be rigid about it. At the beginning of each week I have a basic idea of how I plan to schedule my week, but I can change it on short notice. On days when I have an appointment scheduled, I try to pile on the rest of my errands for the week while I'm out. Or, if I learn company is visiting, I'll move up my deep cleaning day.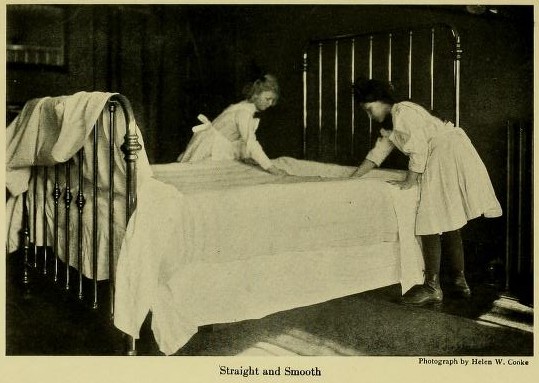 And there will always be those times when I abandon my schedule entirely because every day is either a kitchen day as I finish harvesting my garden or a flex day as we finish up projects and fit in fun stuff during the last few summer-ish weeks. It's easy to resume the schedule when things slow down a bit, even mid-week. By that time, I'm always glad to be back on a steadier rhythm.
Do you have a weekly housekeeping plan? How do you manage your schedule?