May I say a word to the readers about the little bride who lives in the house down the road? Have you called on her yet? And did you tell her how to regulate her life and household so that it will be an exact replica of your own? Perhaps the next day the neighbor from over the hill visited her and gave her a similar line of advice, but not in line with yours.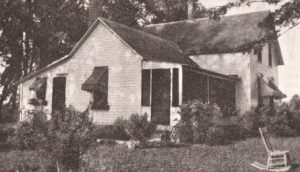 A few more visits from well-meaning neighbors and the young husband will come in some evening to find his wife in tears. And if neighbor Number One should happen to see the trace of tears, how the news will fly that Peggy and Bill are finding that married life isn't all it's "cracked up" to be!
About this time another neighbor makes her first call. It matters not to her whether Peggy's kitchen is done in blue and white, or in henna; whether she does fancy work or patch overalls; whether she uses rouge, or doesn't. She admires everything about the new home and leaves with the admonition, "Don't be afraid to call if you need help any time."
Just think back to your own "bride days" or your "first baby days." Don't you remember how that wealth of advice overwhelmed you? Your head was in a mad whirl. You were longing for friends but you had to fight the impulse to say, "Won't you please just attend to your own fish-frying?"
So let's quit wondering if Peggy is satisfied with Bill, and with life in general, and resolve that Peggy and Bill shall not be disappointed in their neighbors.