Drudgery! It is an old-fashioned word that we rarely hear today, but a century ago, it was used a great deal to describe housework in general, and often Spring Cleaning. In 1926, a woman from Iowa wrote, "True, we have vacuums, dust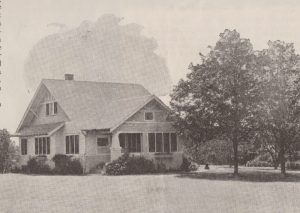 mops, electric washing machines, and washable floor coverings…but there always will remain, to the conscientious housewife at least, a certain amount of dread because somewhere, try as hard as she may, there is bound to be more or less of drudgery in house cleaning."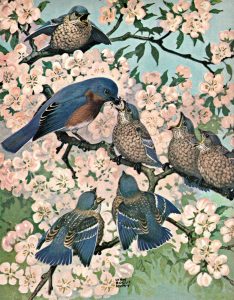 I have begun my 2018 Spring Cleaning but instead of getting discouraged with so much ahead of me, I plan to take this woman's advice:
This spring I have decided to work out my own plan of escape from this drudgery. I am going to take a lesson from Mother Nature herself. I shall don the gayest of percale aprons when I go outside. I am going to "step out"–oh, anytime in the first part of the mornin', nine o'clock if I feel  like it–under the
trees, into the garden, up the hillside; watch the robins arrange their summer cottages; smell the intoxicating scent of apple blossoms; and go to sleep at night listening to the soft pitty-pat-pat of rains against the window panes or the sigh of the wind in the trees, knowing for a certainty that they will accomplish fully their ever new and lovely process of spring rejuvenation and knowing that I too, even though I do a small portion of my work at a time, making room every day for other sights and interests more pleasurable than housework, I too shall find I can have the house just as sweet and clean, my tasks just as amply done if I take each one as it comes. Not crowding–and without worry or thought as to the days that are just beyond my reach. Sun, wind, rain–it is all in the glorious scheme of a spring day–why shut out the better part? Three cheers for Mother Nature's easy way of House Cleaning!