The last frost date is upon us here in southern Wisconsin, and I have officially begun another garden season. Every spring I can't wait to get out in the garden and by August, I'm wondering what I did with all that spare time I had all winter.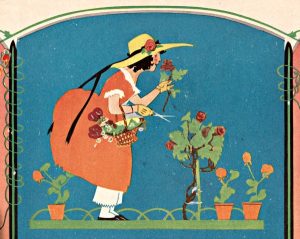 A few months ago, I discovered a free kindle book called My Summer in a Garden. It was written in 1870 and unlike many books from that period, it's funny. The author had me laughing over his frustrations and perspectives regarding a vegetable garden, which 150 years later, still resonates with modern gardeners. Here is how he introduces the subject of gardening.
"The principal value of a private garden is not understood. It is not to give the possessor vegetables or fruit (that can be better and cheaper done by the market gardeners), but to teach him patience and philosophy and the higher virtues, hope deferred and expectations blighted, leading directly to resignation and sometimes to alienation. The garden thus becomes a moral agent, a test of character, as it was in the beginning."
I can't agree with him completely. I have to argue that my garden does give me produce and if not better, it's definitely cheaper than market gardeners (or farmer's markets) nowadays. However, along with fruits and vegetables, it definitely provides a healthy dose of character testing and building experiences…
Like last year when I harvested a whopping one sweet potato per plant, only to have them all freeze in my root cellar before I could use any.
Or when Japanese beetles covered my plum tree, threatening my first harvest. I went out three times a day to pick off those nasty things and drown them into a container of soapy water. (But the work paid off, because I got this harvest. And if you've never had canned plums, you've missed out on a treat!)
Or when the spinach that I hadn't even started harvesting bolted and went to seed overnight.
Or when I planted hot summer crops, like okra, melons, and peanuts, only to have a record cold, rainy summer. (And you know what happened the years I focused on cool weather crops…)
But there are the surprises that somehow, make up for (most) of the frustrations…
Like one of my first gardens when I apparently sowed carrot seed with a heavy hand and every single one of them grew (this was not the entire harvest)–
Or the year when one potato fed several people–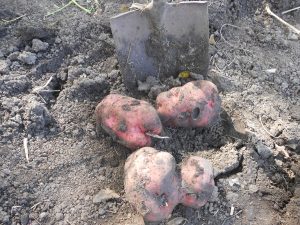 Or finally, the year my tomato grew a terrific schnoz and a dimple. It was really hard to eat this fellow, let me tell you.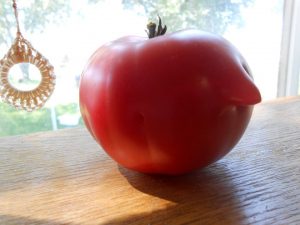 And so it begins, garden season 2021…deferred hopes, tests of character, blighted expectations, here we come!