I can't resist reading all the "how to save money at Christmas" articles online during the holidays. Frugal gifts, inexpensive meals and treats, DIY decorations–all the suggestions are interesting. Keeping things simple seem to be the overall theme.
But I'd like to suggest that spending less and taking a minimal approach during the Christmas season isn't always the best long range strategy. Instead of saving money during the holidays, I often spend more than I usually do. Way more, actually. I'm flinging money around at a madcap pace.
As a new housewife, I was happy to find butter and chocolate chips on sale and appreciate my one-time bargain. It meant that my holiday baking would be cheaper.  But then one year it clicked that I should take advantage of all these bargains. Instead of buying just the butter I need for the week plus an extra few pounds for my Christmas baking, I should buy enough butter to store it in the freezer so I won't have to buy any for months. And as for chocolate chips, why not buy enough to last most of the year while they're almost half the price? It was a light bulb moment for my dimly lit self. It's not as if those bags of powdered sugar are going to spoil (ever). Things like sour cream and cream cheese won't last forever, but they'll be good until the expiration date, assuming I have enough refrigerator space to store them.
I also like to buy gift cards at local businesses that offer a bonus. One restaurant last year included a free meal with a gift card purchase. Well, as long as I'll eat there next year anyway, why not pay for it now and get an extra meal? And those online companies that give you a bonus when you load a gift card? You can load one for yourself to use throughout the year.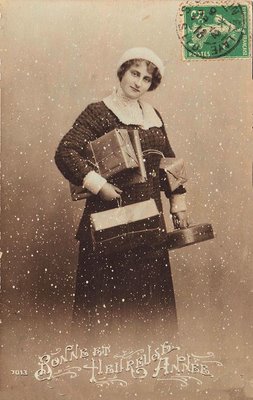 I haven't always been able to take advantage of the holiday sales, especially at first. It took me a year or two to modify my spending patterns. In spite of how you may feel during your intentional shopping spree, you're not actually spending more. You'd be buying groceries for January and beyond anyway, so you're just spending money earlier AND at lower prices than you would after the new year.
And then comes January. The little extra planning and shopping in December gives me a head start on simplifying my life for the rest of the year. And if there's anything I can do to avoid having to leave my cozy home in January, I'm happy to do it.