After the morning tide of annihilation had in its westward course, driven the buffalo to the extreme western portion of the state, there still remained, even in the parts most thickly settled at this time, thousands of acres of good grazing lands.
As the homesteader rarely kept more than a team or two and only a few acres, this land was, for the most part unused.
The Texas cattle ranch men, hearing of this fine grazing land, began to send in great droves of their native cattle to this section. Gaunt, slim-looking animals they were, with great, big heads and enormous long horns!
They came in drove anywhere from one thousand to three thousand in a herd. To every one thousand there would be two or three herders with saddle ponies. These herders were supposed to keep the cattle in bounds and see that they did not destroy the homesteader's small acreage of crops; but often the cattle would take a slip over the boundary line, with or without the herder's consent and make a raid on is growing or garnered crops.
As the crops of this time were never very large and as there was so little broken land, a raid like this always played sad havoc with the crops, as these beasts were always ravenously hungry.
The herders of course were always very sorry (?) and offered to pay the damages, but the amount they were willing to pay and which the homesteader felt he must take, never in any manner made up for the damage done.
It took a better fence than the early settler was able to provide to keep a bunch of hungry Texas steers out of mischief. I remember at one time our sole crop was a small pile of corn raised on the sod and a little stack of millet hay. One night these marauders broke down the board fence and in the morning our beautiful pile of yellow corn and precious stack of hay that we had counted on so much was nearly all inside that bunch of cattle and they looked just as gaunt and hungry as ever!
In the winter these animals were more apt to "make fight" on pedestrians and it was not safe to walk among them, although they never attacked anyone on horseback.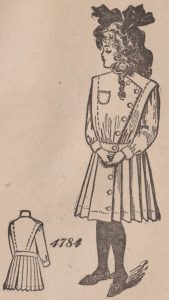 One day, there being only my mother and myself at home, mother told me to fetch a pail of water located about a hundred yards from the house.
My mother looked all around to see if there were any Texas cattle near and seeing none, told me to run on. The wind was blowing a gale from the north and spits of snow were flurrying by. I shot out of the door, the wind blew me swiftly around the corner of the house and sprang! I went right up against the head of a huge Texas steer! The sight of those hungry eyes staring at me and those long horns encircling me made me think that "my time had come." I dropped my pail and fell down screaming with fright! My mother rushed out and picked me up, not knowing what it was all about! The steer never "made fight" for a wonder, but stood there blinking, as if he wondered what we would do next! We got safely back into the house and that steer stayed there till my father and the boys came home and chased him away and I never brought home that pail of water, either!