From my farm I can see most of the world; and if I wait here long enough all people pass this way. -1907
This is one of my most favorite quotes. While it wasn't specifically written from a housewife's perspective, I think it's especially fitting.
I haven't always been a housewife. I spent many years working different jobs and going to school before I got married and settled into a career running our home. Back before my life was centered around the home, I always felt a restlessness on the rare day that I spent at home. even when I had a lot to do. I felt like I could go stir-crazy looking at the same four walls. I know I haven't been the only one. I've heard it from mothers on maternity leave…."What do you DO all day?  I'd go crazy staying at home; I have to be out and around."
However, in seasons where my outside commitments have been minimal I find myself liking to be home to the point that I'm not anxious to leave. I'm not a recluse or a hermit, but I'm definitely a homebody. From what I've noticed, it takes everyone a while to break from the "on-the-go" mentality and to slow down enough to enjoy being at home. But now if someone offered to do all my errands I would be perfectly content to stay in my home and yard and leave just on the weekends to go to church and visit family. It seems that the more I'm gone from home, the more unorganized our home life becomes. You'd think the house would stay cleaner the fewer people were home making messes and eating and changing clothes, but it's not the case. And instead of getting bored, I have the opposite experience. The more I'm at home the more I find to do.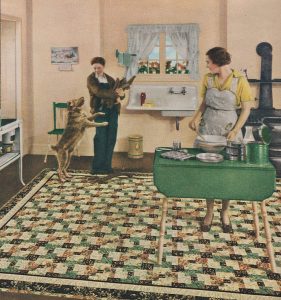 From my home I can't see most of the world but I can see most of my world. That's enough for me. (I'm sure that was the author's point.) I think sometimes we make our sphere too big. It gets overwhelming and becomes too much for us to manage. I don't believe we miss as much as we may think we do at times, which is why it's called the fear of missing out and not simply "missing out." The stuff that's important and the people that matter will find us.