Not very long ago, my aunt gave me a dollar to spend anyway I wished. I went to the city to spend the afternoon and I also spent my dollar. I paid a quarter to see a movie, a quarter for a new magazine and because my best girl friend had one and because I wanted one like her, I bought a harmonica for fifty-five cents. Then I bought a nickel's worth of candy to eat on my way home. I didn't have a very good time either, for the movie wasn't as good as I expected it to be and my best hat got wet!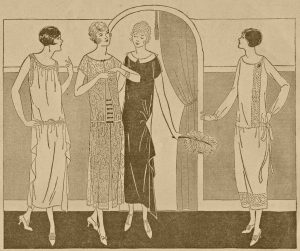 When school time came, Mother asked me how many dresses I had that were good enough to wear. She said, "Well, you ought to have at least one more gingham dress but I cannot spare the money now."
It was then that I began to wish I had saved my dollar for here is what I could have bought with it.
Three yards 33-inch gingham—75 cents
One spool of thread—5 cents
Three skeins embroidery floss—10 cents
One Farmer's Wife pattern—10 cents
Total—One dollar
This is how I spent my dollar and how I could have spent it had I been wiser at the time.
Note: Lelia was living with her widowed mother when she wrote this story. A year later she married Ray R. Figg and together they raised a family in their home state of Indiana. Hopefully, she shared this lesson with her children, all girls–Evelyn, Rosemary, Wilma and Shirley. Lelia died a widow in 1994, at the age of 88.