I visited an elderly German lady last summer and was impressed by the simplicity of her little home. It reminded me of European kitchens that I've visited, very practical and not at all modern. I especially liked the beautiful linens that she clipped up across the kitchen windows and draped over some open kitchen cupboards.
I recently remembered this as I looked at the microwave cart in my kitchen. While I don't use it for a microwave, it holds many of my small appliances.  At its worst it's a jumbled, tacky mess and even at its best, it tends to look cluttered. I thought I would try to cover the shelf to give the kitchen a cleaner look. I could easily have found a piece of fabric and clipped it up somehow, but knowing me, it would have looked a little rakish. And since rakish is sort of a default look of mine, I decided that I would have to dress it up somehow in a more formal way.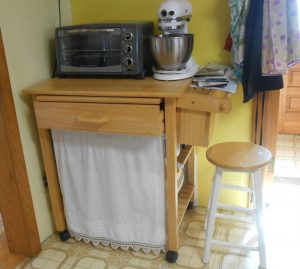 Although I have a chest of drawers filled with fabric, my immediate reaction was to plan an excursion to the fabric store.  But in the spirit of frugality, I decided to challenge myself to use fabric I already had. Unfortunately, I couldn't find anything that I thought would work.
Then I remembered a stack of pillowcases a lady gave me several months ago.  She had cleaned out her linen closet of all the single pillowcases and offered them to me, knowing I appreciate vintage linens.  They were all white, some with crocheted lace edging and some with hand sewn embroidery.  I chose one and trimmed off the seams, stitched a hem on either side, and made a casing across the top.
Ta-da!  A new curtain for the price of some thread, a cheap tension rod, and very little time.
I was so pleased with it that I used another pillowcase to make a little valance to dress up my back door.
Not only did I get a few curtains that brightened up my house, but they were basically free, and I made use of a couple of items that weren't being used otherwise.  It makes me feel like an efficient housewife! 
Since then, I've decided to retire the pillowcase motif before the house begins to look suspiciously like a tribute to bedroom linens.